…make it your ambition to lead a quiet life: You should mind your own business and work with your hands… (1 Thessalonians 4:11, NIV)
Last Saturday afternoon, flipping through the golf scores on my phone, I found a section of a leaderboard that captured my attention. I took a screenshot. Here it is: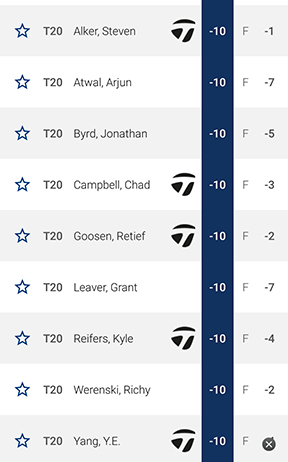 Five names among those tied for 20th stood out above the rest: Arjun Atwal, Jonathan Byrd, Chad Campbell, Retief Goosen, Y.E. Yang. Each player possesses at least one PGA Tour win. All but Atwal possess more than one. The last two, Goosen and Yang, have major championship titles to their credit.
Your daily life, as it is and lived faithfully, can carry kingdom influence.Now let me tell you what tournament this was not. This was not The Open Championship. While golf's hundred million eyes were turned toward Jordan Spieth at Royal Birkdale, these five men were plying their trade 4,500 miles away, at the Barbasol Championship in Alabama. It's a second-tier event that makes room for players who didn't make the field pursuing the Claret Jug.
Together we understand why Spieth gets all the attention. He's a sensation. A wizard. A golden boy. Time will tell how far he goes, but for now he's gone far enough to make us say, "Wow!" What time might also do, as it has done to the list of competitors tied for 20th after three rounds at Grand National, is relegate him to the ordinary.
And at this point the question becomes existentially and spiritually vital: Is ordinary OK? If the apostle Paul was the Jordan Spieth of Jesus followers, who are the rest of us in comparison?
Interestingly, when Paul wrote to the Thessalonian believers, he didn't urge them to be "super disciples." Rather, he encouraged them to live their daily lives well—quietly, singularly, industriously. Get up and go to work, he was saying. But then he added two motivations: "…so that your daily life may win the respect of outsiders and so that you will not be dependent on anybody" (1 Thessalonians 4:12).
There may not be much fanfare in this ordinary sort of life, but there is impact. Your daily life, as it is and lived faithfully, can carry kingdom influence. In terms of personal mission, that's a great one to have!
—
Jeff Hopper
July 26, 2017
Copyright 2017 Links Players International
The Links Daily Devotional appears Monday-Friday at www.linksplayers.com.