Gerina Piller
Best career LPGA Tour finish: 2nd, 2013 CME Group Titleholders and 2015 Meijer LPGA Classic
2016 USA Olympian

Martin Piller
6 Web.com Tour Wins: 2010 Stadion Classic, 2010 Cox Classic, 2014 News Sentinel Open, 2015 Albertsons Boise Open, 2015 Digital Ally Open, 2017 Ellie Mae Classic
LINKS PLAYERS MAGAZINE 2012 ANNUAL EDITION
Married to Golf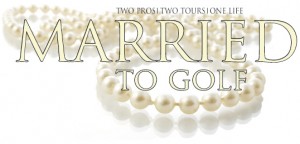 By Jeff Hopper
Minutes before she became Martin Piller's fiancée, Gerina Mendoza was riding a RipStik like any skater girl from Roswell, New Mexico. Good thing there was no faceplant in the mix because, as it turns out, Martin and Gerina were married in pretty short order. They had to be. There were tournaments to be played.
Martin Piller grew up in Texas, though as big as everyone knows that state is, he might as well have been a half galaxy away from his one-day wife. Turns out, he might have wanted to be that far away on the day they met, too.
That was three falls ago in Dallas, where Gerina had moved after an outstanding collegiate career at the University of Texas, El Paso—a school a whole lot closer to Roswell than to Dallas, Houston, San Antonio, Austin, or anywhere else that matters in Texas. At UTEP, Gerina became the first female golfer from her school ever to win the individual conference championship, a nice follow-up to the New Mexico state high school championship she had won as a senior at Goddard High, the same school that produced Nancy Lopez more than a generation earlier.
Martin's pedigree was not much weaker. In fact, from the time golf had captured his attention when he made a hole -in-one at 12 years old, he had progressed to the brink of the world's best tours. He would play the Nationwide Tour in 2010, where he would win twice and qualify to play the PGA Tour in 2011.
So there was a reason Ben Bost, who works as a chaplain with Fellowship of Christian Athletes on the Nationwide Tour, called them both and asked them to come out for a round with some NASCAR pit crew guys in November 2009. He knew they would make for good playing partners, wowing these NASCAR hacks the way pros usually do amateurs with their long drives and precise putting.
The two didn't get too much chance to talk that day, but one word Gerina said captured Martin's attention: Lakewood. The 100-year-old country club had long been on Martin's radar as having one of the best courses in Dallas. Gerina, he discovered, was a member—and Martin was hoping to coax an invitation out of her. Between golfers, it was mostly a platonic desire.
But Gerina's defenses were up. After a grueling couple of years on tour and some disappointments with other guys, she had told herself, "I'm just going to play golf and I'm not going to have a boyfriend."
So when the time came for Martin to ask for her number, Gerina told herself that there was going to be no filter. Whatever I think, I'm just going to say it. What came out of her mouth was blunt for sure: "If you're going to ask me out, you might as well just ask me out now." What she really hoped for was a chance to turn him down and move on. Martin was confused by Gerina's response, but he took her number all the same and walked away. "Sweet ," Gerina told herself. "I scared him off. Just what I wanted to do."
Early the next week, though, Martin called. Better than a text or Facebook message, Gerina thought. "He asked to go play golf. So we played, and the more I hung out with him, I found out how funny he is, and I like to laugh. I guess I couldn't help but like him."
Martin, too, was falling. And fast. Within a week, he was ready to tell Gerina what he felt. "I was like, 'Man, am I going to drag this out and be her friend for three months and then tell her that I like her? I'm just going to tell her. And if she shoots it down, you know what, I've only known her for a week. I'll be fine and I can move on.' So I told her, and she didn't run out of the house or think it was gross, so I was like, 'That's good.'"
Besides golf, both Martin and Gerina were paying attention to the development of their Christian faith during the latter stages of 2009. Martin's faith caught hold during his sophomore year at Texas A&M, when he roomed with two believers in Jesus. "Just being around them," he recalls, "I realized they had something that I didn't have, and I wanted it. Before that I wouldn't say I was atheistic but I just believed in a god. I knew I wasn't perfect, but I still thought I wasn't that bad. I went to church once during that time and the sermon was from the book of James and this verse in James that says, 'You believe that there is one God. Good! Even the demons believe that—and shudder.' That kind of shot down the theology that I had, which didn't match up with what the Bible said."
Gerina had come from a background that touched up against God, a bit in the Catholic Church, some time among the Baptists. Eventually, she got connected to a youth group at a growing church in Roswell. "I remember going to youth group and one of the kids' dad, he would sing and he had the most amazing voice I'd ever heard. I'll never forget, I was sitting there, we were about to start, and we always sang before we started, and he sang, 'In the Secret,' and I just lost it. I started crying. I didn't know what was going on. I'd never felt the presence of God before. I didn't realize what a personal relationship with God meant and that you could talk to him directly. Afterwards I went home and I could barely tell my parents because I was crying. It was a joyful cry, and I told them that I had accepted Jesus into my heart and the next week I got baptized."
Still, the life of a collegiate then professional athlete will test the firmest commitments. Martin was aided by the ministry of College Golf Fellowship and the mini-tour presence of FCA. Gerina had been getting her feet back on spiritual ground through the Bible study on the LPGA Futures Tour where she had played the 2008 and 2009 seasons, and where she would return in 2010. When they met, they did not know that they were both attending the same large church, Watermark, in Dallas.
Eventually, it was a request from Martin that the two of them listen to a podcast series on Christian romance from the Song of Solomon that captivated Gerina. "That just made me melt," she says. "That was really cool. I just knew I wanted to marry this guy."
Which brings us to that driveway in front of Gerina's family house in August 2010. Martin and Gerina had just returned from a day trip to play golf an hour from Roswell, and the two were hanging out with Gerina's brother, riding Rip-Stiks. Martin had pulled his golf bag from the car when Gerina had ducked inside for a minute, and now she was wondering what it was doing there, right in the middle of their prime riding spot.
"I said, 'What is your golf bag doing out?'" she recalls. "He said, 'Oh, your sister wanted to see my clubs.'" It was a bad cover. Gerina's sister hates golf. But she overlooked it, telling herself, "Maybe she thinks Martin's clubs are cooler than mine."
A minute later, Martin started telling Gerina about a "really cool golf ball" he had found on the course that day. When he kept insisting he couldn't find it in his bag now, Gerina came over to help him—"you know how girls are, we always have to go try to help."
"Hey, check that top pocket," Martin told her.
When she reached in, she found only one thing: a ring box. She pulled it out, but Martin wasn't watching her, so she panicked. "I see the ring box, I freak out, I throw it back in, zip up the zipper, and head to another pocket. I'm like, 'Oh my gosh, I wasn't supposed to see that and now I just blew it.'"
Martin directed her back to the same pocket. When she opened the zipper this time, she said, "There's nothing in here. Just this." He asked, "What is it?" and dropped to his knee. Moments later, they were engaged.
In 2011, after wedding bells tolled on January 8, Martin and Gerina Piller headed their separate ways. As a married couple.
There's no other way to do it when the husband has status on the PGA Tour and his wife on the LPGA Tour. Fairways call.
In the end, they made similar money—which meant a return to the tour with improved status for Gerina in 2012, but a return to Q-School and then the Nationwide Tour for Martin. But 2011 wasn't really about its end. Not in a golf sense. Not when the Pillers' marriage was still so close to its beginning.
As it turned out, the tours' differing schedules provided repeated opportunities for the couple to be together. The LPGA season doesn't start until March, so Gerina spent the early part of the PGA season traveling with Martin. Rather than spending large amounts of time working on her own game at a nearby facility, Gerina would follow Martin as he played. "It's kind of like mental practice for me," she says with assurance in her voice. "After being out on tour with Martin for seven weeks, I came to my first tournament and it was like, 'I feel like I've been practicing all this time just from watching how the guys hit the ball, and how they chip and how they putt.'"
By the time Gerina's season got going, the early reshuffle on the PGA Tour locked Martin out of some events and he could catch Gerina's play.
"Believe it or not, we didn't have to go very long without seeing each other, which really helped our first year." Gerina says. "First years are usually the toughest, and I think being apart would have made that tougher."
Even with some limits to their togetherness, both admit to being exposed in their marriage. "There are times when I've had to learn a lot of patience," Martin admits, "not with her, but with marriage in general. I've learned a lot about myself and how selfish I am."
"Just getting used to being married is an adventure in itself," Gerina adds, "just learning how they are and how I am, and really realizing how much of a sinner I am, I guess. It really makes the marriage that much better."
Sure there's some newlywed rosiness in that assessment, but as far as Martin is concerned, there is ample reason for that, reason born out of the disappointment of a rookie season when he made just seven cuts in 23 tries and couldn't notch a top-20 finish. "[2011] was one of the tougher years for me golfwise, but I don't even look at it like a tough year because Gerina was with me and it made it so much better. If she weren't there, it just wouldn't have been the same. There's so many times when we're together and I'm thinking, Man, I'm so glad I married this person."
What comes next is harder to surmise. Gerina's status for 2012 means she gets chances to play at least two of the LPGA's majors, the Kraft Nabisco and the U.S. Women's Open. She has played neither before. "I'm pretty stoked," she says, a bit obviously.
Martin returns this season to the Nationwide Tour, where his success in 2010 landed him at eighth on that tour's money list. A later start more closely coincides with the LPGA schedule, so the Pillers may not get so many chances to cross paths in 2012, but they're not sweating it. Their focus is centered on Christ, which they regard as healthy both for their marriage and their golf.
"The goal is to make our relationship with Christ the focus," Martin says. "If that's where our heads are at, if we make Christ our focus and let that bleed into our marriage and be all over it—if that's the case, then the golf will take care of itself."
COPYRIGHT 2012 LINKS PLAYERS INTERNATIONAL
A PRACTICE TIP FROM THE PILLERS
Both Martin and Gerina Piller find that their best practice comes on the course.
Gerina, whose strength is her long game (she was fifth in driving distance on Tour in 2011, just behind noted bombers Michelle Wie and Brittany Lincicome, averaging 265 yards), says, "I'm not really a sit-there-and-practice-for-hours-on-end player, meaning hitting balls, chipping and putting. My favorite practice routine is to just go out and play. You learn a lot when you're playing, and you get in those real situations and you actually learn how to score. I think at our level now, it's not so much about learning how to hit a shot, it's about learning how to score, and to make pars when you're out of position and stuff."
Martin adds to that thinking, with an emphasis on competition. "We like to play matches on the course, games on the course with other people."