Monthly Thank You Letters
Each month at Links Players, we inform our donors by sending a progress letter with receipt of their donation, no matter the size. To read the most recent letters, you may click the dates below to view each as a pdf.

Recent LettersDecember 2017November 2017October 2017

JANUARY 2018

Dear Links Player,

"Wait, what?! We're in a new year?" I know, you're not really surprised. Unless you're Rip Van Winkle, it's pretty hard to miss the turning of the calendar from one year to the next. Even if you've become a fuddy-duddy like me and you go to bed before midnight hits, you know what's coming. You'll wake up and hope you can remember to write the proper date on your checks. People still use those in 2018, right?.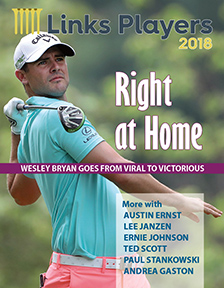 For me, I went into the office on New Year's Day. The things I wanted to do that day were happening after lunch, so I had the chance to finalize one of my favorite projects of the year that morning: the Links Players Magazine. The printer was waiting to get going—and we're always eager on our end. With contributions this year from Wesley Bryan, Lee Janzen, Austin Ernst, Ernie Johnson, Ted Scott, Paul Stankowski, and Andrea Gaston, we have articles from players and coaches and commentators, from the new and the old, from the tested and the faithful.

If you need magazines for your club, group, or tournament, you can order them in bulk and pay only for the mailing here.

There's even more excitement out on the field, though. The coming of January means two new additions to our team.

Drew Hamilton loves golf, understands non-profits, and has real, practical experience in forming and leading small groups. He is moving into the role of North Texas region director. Our beloved Randy Wolff, though remaining very active in the Dallas area, is winding down his career, and he and Drew have been visiting Links Fellowships together over the past year, preparing for this transition.

Up in the Northeast, a long-time friend of the ministry, Bob Kuecker, has moved from Maryland to Boston, so he and his wife can be closer to their grandkids (you might recognize this stage of life). Bob will pick up as an area representative in the greater Boston area, helping new Fellowships get going. A seasoned affiliate with The Navigators, Bob loves the Links Players model and its effective reach behind the walls of clubs.

We are exceedingly blessed to have donors like you partner with us in the work God has given us to do. I make a daily habit of dedicating our work to the Lord, knowing that He can take our simple efforts and work them miraculously for His purposes and His glory.

Jeff Hopper, COO