Staff
The leadership of Links Players International comes in several layers. As an organization, we are governed by a national board, made up of decision makers who possess the qualities of biblical elders, as well as the ministry and business savvy needed to guide our staff leaders according to the Vision and Mission of the organization.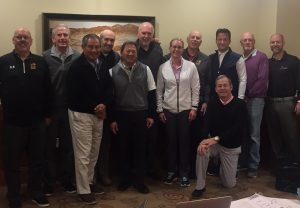 Our staff is comprised of regional leaders supported by the national office, which provides development of program resources and administrative assistance, along with the area staff who serve smaller locales. Even our president, Jeffrey Cranford, serves at the local level, leading and teaching Links Fellowships in the golf-rich Coachella Valley of California. Each of our regional directors is supported in decision making and advocacy by a regional board.

Our regional directors spend the bulk of their time leading leaders. While all are involved in the regular activities of at least one local Links Fellowship, their thrust is to encourage and train Links Fellowships leaders for the facilitation of regular gatherings of these groups.

Finally, those Links Fellowships leaders challenge individual Links Players in their Fellowships to be Christ-led leaders in their businesses, clubs, homes, and communities.

We believe that God is always growing each one of us to tackle the next "assignment" He has for us in His kingdom. We follow Jesus so that we might lead others faithfully and with excellence.

To reach individual staff by email, use the staff member's first initial then last name followed by @linksplayers.com. Use linksplayers@linksplayers.com to reach Jeff Hopper or Tracy Hanson.